There are so many choices and features that can be incorporated into an ecommerce website that it can be difficult to know where to start. However, there are several features that all the best sites have in common and by using these features you will ensure that customers return to your site time and time again.
Simple Checkout Process
If your checkout process is complicated or takes a long time to complete then customers may abandon their carts and go to an alternative site. As much as 70% of consumers are likely to do this so it is important to check that all directions on your site are easy to follow in order to avoid losing customers.
Safe And Secure Shopping Cart
Customers won't be happy about sharing their personal information if they don't believe the site is secure. If you apply for security certificates you will be awarded a badge which can be displayed on your site. The best way to protect both your website and your customers information safe is to use SSL, which is a secure server.
Fast Loading
Some consumers have indicated that they will click away from an ecommerce site if it takes more than three seconds to load. A site that is slow to load may also affect your rating on Google as well as discouraging customers. The time a site takes to load should be tested before it is launched.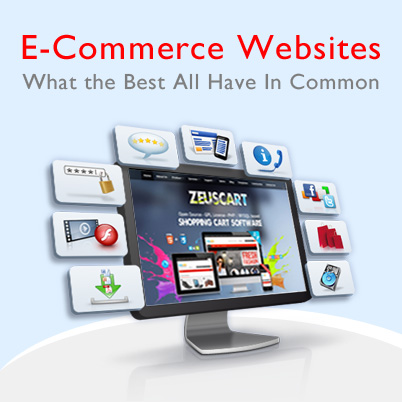 Time To Go Mobile
More people are using mobiles to search for websites rather than from a PC or laptop, which makes it essential that you have a mobile version of your website. In 2013 sales from a mobile device reached $12 billion according to Forrester Research Inc, and this is expected to rise by a further 6% in 2014.
Clear Calls To Action
There should be at least one example of a call to action (CTA) on every page of your website. There are two types of CTA, primary and secondary. A primary CTA encourages customers to make a purchase, whereas secondary CTAs are used to grow mailing lists and collect additional data regarding services and merchandise.
Ecommerce Social Sharing
You may be missing out on customer referrals if you do not have social sharing buttons on your website. Many customers use social media to share what purchases they have made and to bookmark their favourite pages. Options for sharing on all popular forms of social media should be available on your site.
Educating your customers about your merchandise is a good way to let them know you care about them. This can be achieved through social interaction, whitepapers, tutorials and how to videos. This can also establish you as an expert in your field and may also lead to better rankings in search engines. We can be contacted with any further questions you may have about building an ecommerce website.