Do you wish to run a profitable e-book business and earn passive income?
Doing business with the EBook Store is one of the most popular ways to make money online without a heavy investment. Running an e-bookstore not only allows you to sell your own e-book, but to also resell other digital products with re-sell and private label rights. This article will teach you and help you discover the secrets about launching an e-bookstore, even if you are new to e-commerce.
Why should you start an e-bookstore?
If you are interested in e-commerce, starting an e-bookstore is one of the best ways to build an online business. There are three major reasons why you should consider starting an e-book store:
• The operating expense is very low. Besides web-hosting fees, there are virtually no overhead costs in operating the site. Therefore, you don't face the same financial risk at the beginning as you do with traditional retail stores.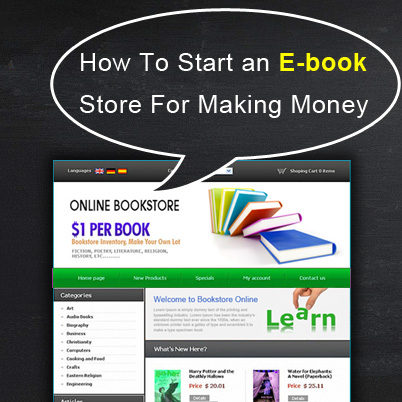 • Because the stocks are information products, you don't need physical inventory control. Therefore, there's no need to spent money renting out a warehouse for stocking purposes.• Once the site is set up, payment and delivery of goods are handled automatically through the e-bookstore's interface, further cutting down on overhead costs. You can update the site or add new products at your convenience.
Get quality web hosting and a domain name
You definitely need a quality web host and a domain name before anything else to establish your online presence. Free hosting usually has very limited functions, so basic HTML support is insufficient in running an e-bookstore, which requires several side server interactions.
A domain name is also required in building your e-business. Currently it costs roughly 10 dollars a year to secure a .com domain. Be careful and extremely sure of your domain name before purchasing it, because you don't want to confuse your customers by constantly changing the domain name of your website.
Setting the E-bookstore platform
Once you have acquired a domain name and a web host, you will need an e-commerce platform to start your own e-bookstore.
When it comes to ecommerce software you can opt for either a commercial solution or free open source scripts. If you are interested in the free options, there are quite a few well-established online shop scripts such as Zeuscart.  Among the paid alternatives are shop-cart, interspire shopping script and CREloaded with user-friendly features. Your web hosting company might also offer a shopping cart function, but this feature usually requires a monthly payment.
If an online store script sounds too complicated, don't worry – it's not a necessity. Instead, you can put up a simple HTML page with a PayPal "Buy Now" button. That feature is sufficient and can take payments readily, especially if you are not planning to sell a wide range of goods. The main drawback to this, though, is that you will need to handle every transaction manually.
Promoting your E-bookstore
Running an e-bookstore requires you to have information on products such as e-books, software, and other various digital products that you are planning to sell. If you have ever compiled online reporters sharing your thoughts and information, these can be used and added to your selling inventory. You can look for digital resources that have their resale rights included. E-books with private label rights or reselling rights grant you the permission to sell those products in your store and keep whatever profits that are gained from their sale. You can also find private label products that allow you to freely change the content and put your name on it.
How to get started with your own E-bookstore
Do you wish to make passive income through an online business? The e-bookstore business model is an easy and non-labor intensive method to begin your e-commerce journey. You don't need to worry about physical inventory, and once you have set the store up, it can run around the clock without a need for constant intervention on your part.